The Mobile Unit offers the perfect solution for any event, big or small.
Sanitronics and UNIT45 have collaborated to develop the Self-Cleaning Toilet Container, especially for use during events. For example, during concerts, festivals, sporting events and more. We have placed nine Revolving Toilets by Sanitronics in the container. Due to the revolutionary technology of the Revolving Toilet, each user gets to experience a completely clean toilet. No matter how many times it has been used before them.
Revolving Toilet
The Revolving Toilet by Sanitronics is a revolutionary self-cleaning toilet system. Within the unit two toilet bowls are used, which alternate after each use. While the first toilet is being cleaned in a separate area, the second toilet can be used.
Widely applicable
During the development of the self-cleaning toilet container extra attention has been paid to its lay-out, appearance and transportability. The neutral design makes it available to a wide variety of environments.
Dry toilet
While the toilet revolves, the cleaned seat will pass an airblade which will dry the seat. As a result, the user will experience a completely dry toilet. The chosen materials also play a vital role in realizing a fully dry toilet under all circumstances.
Sensor technology
At each end of the container, you will find three washbasins that allow users to wash their hands completely touch-free.
24/7 assistance on location
We provide 24/7 assistance on location. So in the unlikely event of a malfunction or error, we are there to fix it.
Quick turnaround
Waiting for a clean toilet doesn't have to take long. The entire process of cleaning and drying the toilet takes less than 20 seconds.
Automated public toilet systems for everyone, everywhere.
To fulfill our mission of creating the safest, most hygienic public toilet we do it all ourselves: from design, to production, to placement, to maintenance. All from our headquarters in Rotterdam.
Expert in Water Systems

Top 100 Most Innovative SME Companies in The Netherlands

Patented Technology

Sustainable

SMART City Concept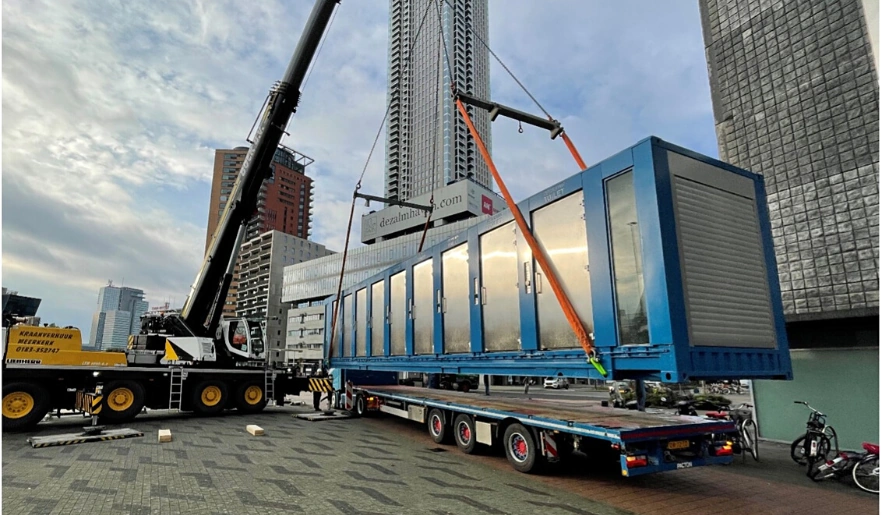 Ergonomic
Buttons for single and multiple operations are ergonomically positioned in order to minimize effort and maximize efficiency.
No touch
Proximity sensors control the functions of opening the door, flushing the toilet and washing of hands. Because these sensors do not need to be touched, this results in cleaner surfaces and cleaner hands.
Hands dried in 10 seconds
We use powerful hand dryers to ensure that hands are completely dry in 10 seconds. Hands do not need to be rubbed, which provides hygiene benefits.
Automatic door opening
Our units can be equipped with a normal or a sliding door that can be automatically opened, so that people can effortlessly enter the toilet.
Our toilet units are designed against improper use. This is why we only use high-quality materials in their development. The structure and exterior of the toilet unit are made entirely of high-quality stainless steel. Stainless steel is a sturdy and durable material that holds up well against vandalism, as well as harsh conditions like prolonged exposure to sand and/or salt.
The inner walls of the unit have an HPL surface. This makes the walls waterproof and easy to clean. Other aspects on the inside of the toilet unit, such as the toilet bowl and washbasin, are also made of stainless steel. This makes it more difficult to vandalize the unit. Furthermore, a maximum duration on the use of our toilet units can be set to prevent abuse and unauthorized long stays inside.
Safety comes first. This also applies to our toilet units. We have developed various systems that ensure that all our products are safe to use.
Emergency buttons
Three emergency buttons have been placed inside, which can be reached from any position. When one of these buttons is pushed, the unit's door will open and lights on the outside will flash. An emergency message is also sent directly to the management system so immediate action can be taken.
Emergency power
In the event of a power failure, the toilet will switch to emergency power. This ensures that the user can complete their visit under any circumstance, and will not be locked inside.
Safety sensors
Motion and other safety sensors in the toilet unit check whether people or items remain inside after use. If the system registers anything, the cleaning cycle will be adjusted accordingly or will not be carried out at all.
Legionella protection
By regularly pumping the systems around, it is ensured that the water does not come to a standstill, even in the case of prolonged closure.
KIWA quality mark
We have the certificate on water-related safety aspects of "dangerous appliances".
4G connection
A constant 4G connection with the toilet units is maintained. Various reports and any malfunctions are received in real-time, meaning that these can be responded to adequately.
In the development of our systems we pay special attention to sustainability. Because of the used materials and our way of building, our toilets are very sustainable. Furthermore, because the units can be Industrially Flexibly Disassembled, every component of the unit can be easily replaced or renewed. This ensures that the toilet unit continues to perform long term and does not lose its 'looks'. This also means that the toilet units fit perfectly into a circular economy.
We have created our own cleaning products, produced under the name 'Sani-sol'. We produce three fully biodegradable cleaning agents, ensuring that the maintenance of the unit is done in a sustainable manner. We are also proud to say that we are partners of the Smart for Sustainable Cities Programme (U4SSC) of the United Nations, working on 9 of the 17 Sustainable Development Goals.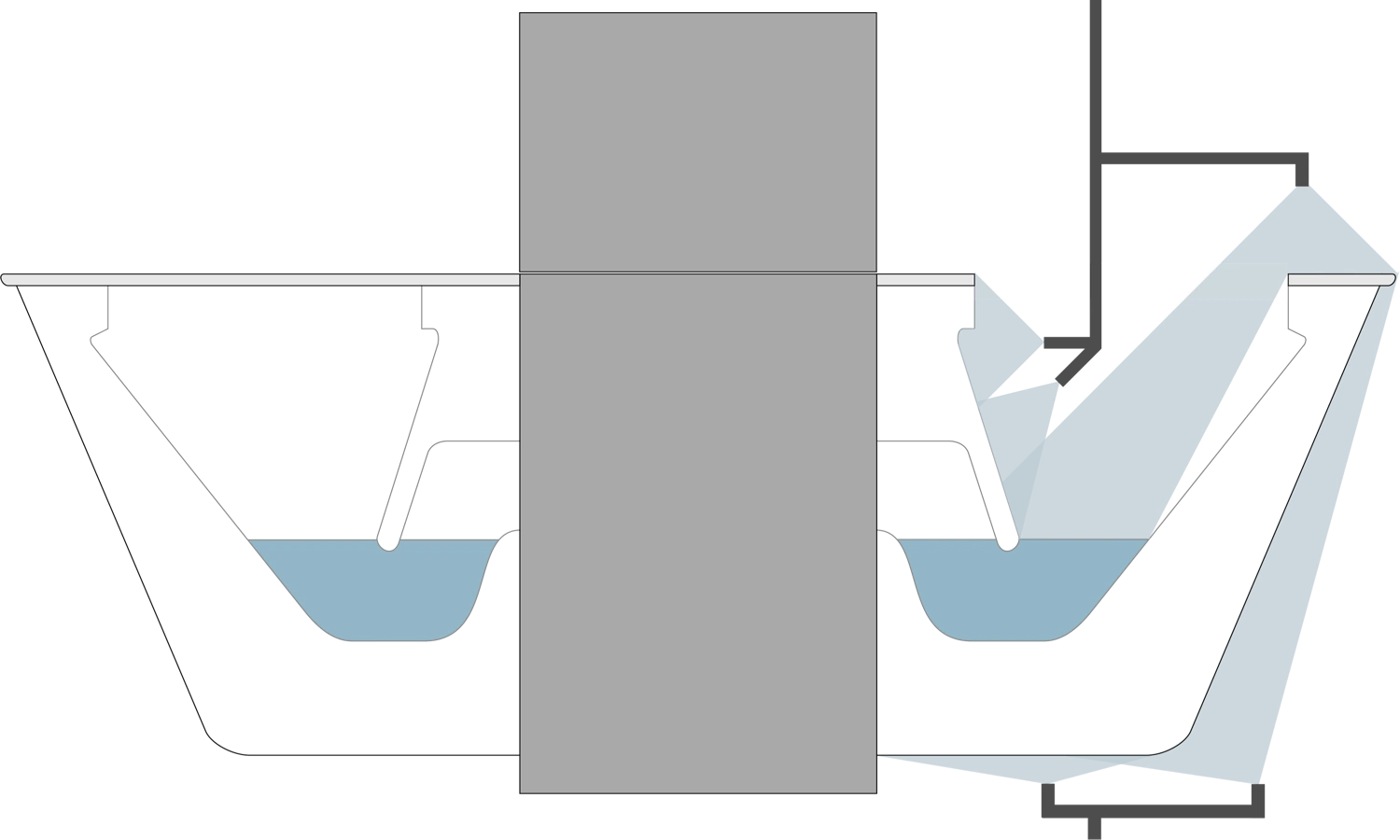 The Revolving Toilet
A revolutionary self-cleaning toilet system for the public space. With a quick turn around time, every visitor will be able to experience a toilet that will be clean on the inside and out.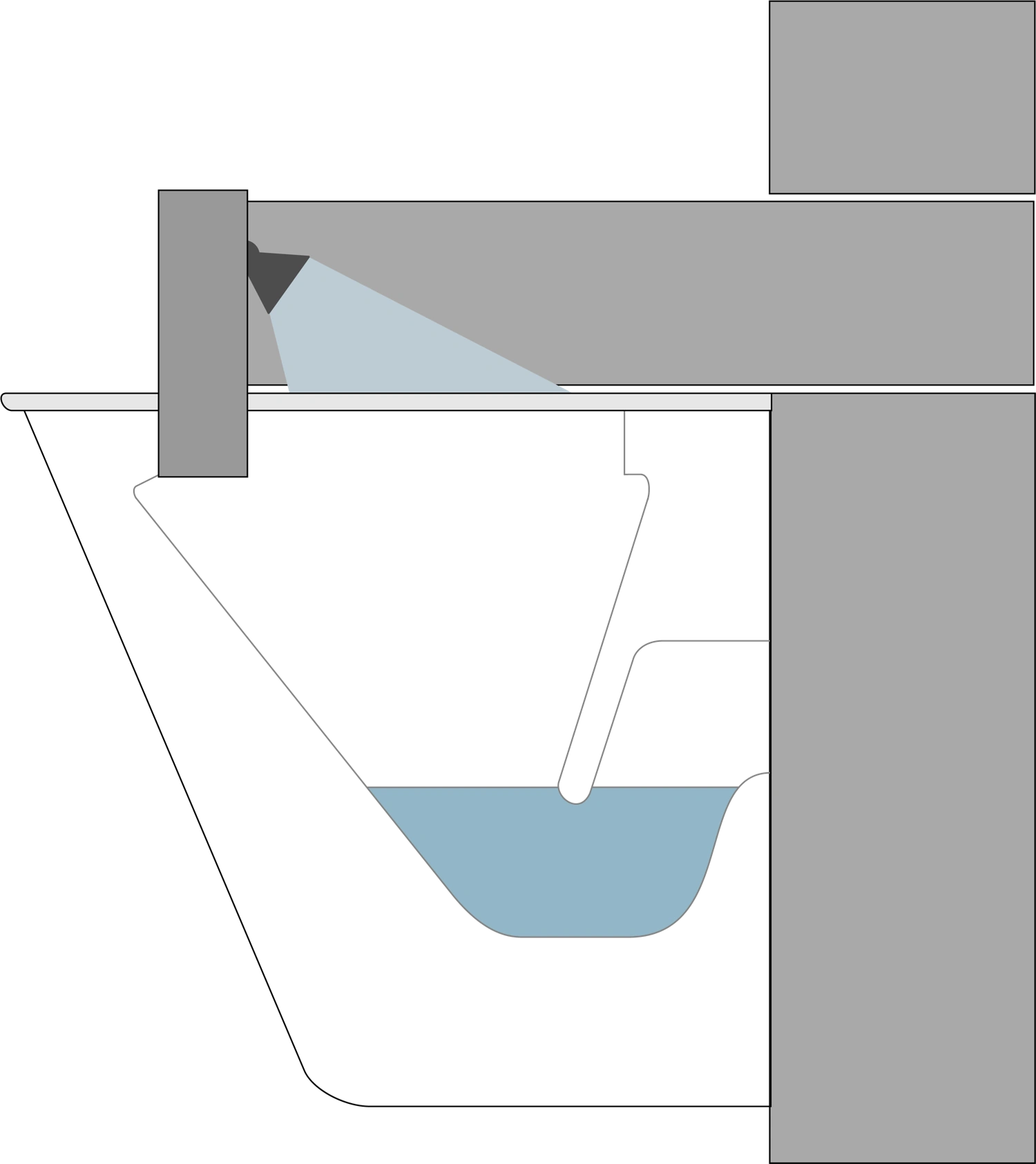 The Automatic
The Automatic contains an automated cleaning system which helps to keep the toilet seat efficiently clean. Every new visitor will be served a clean and dry toilet seat at all times with the Automatic.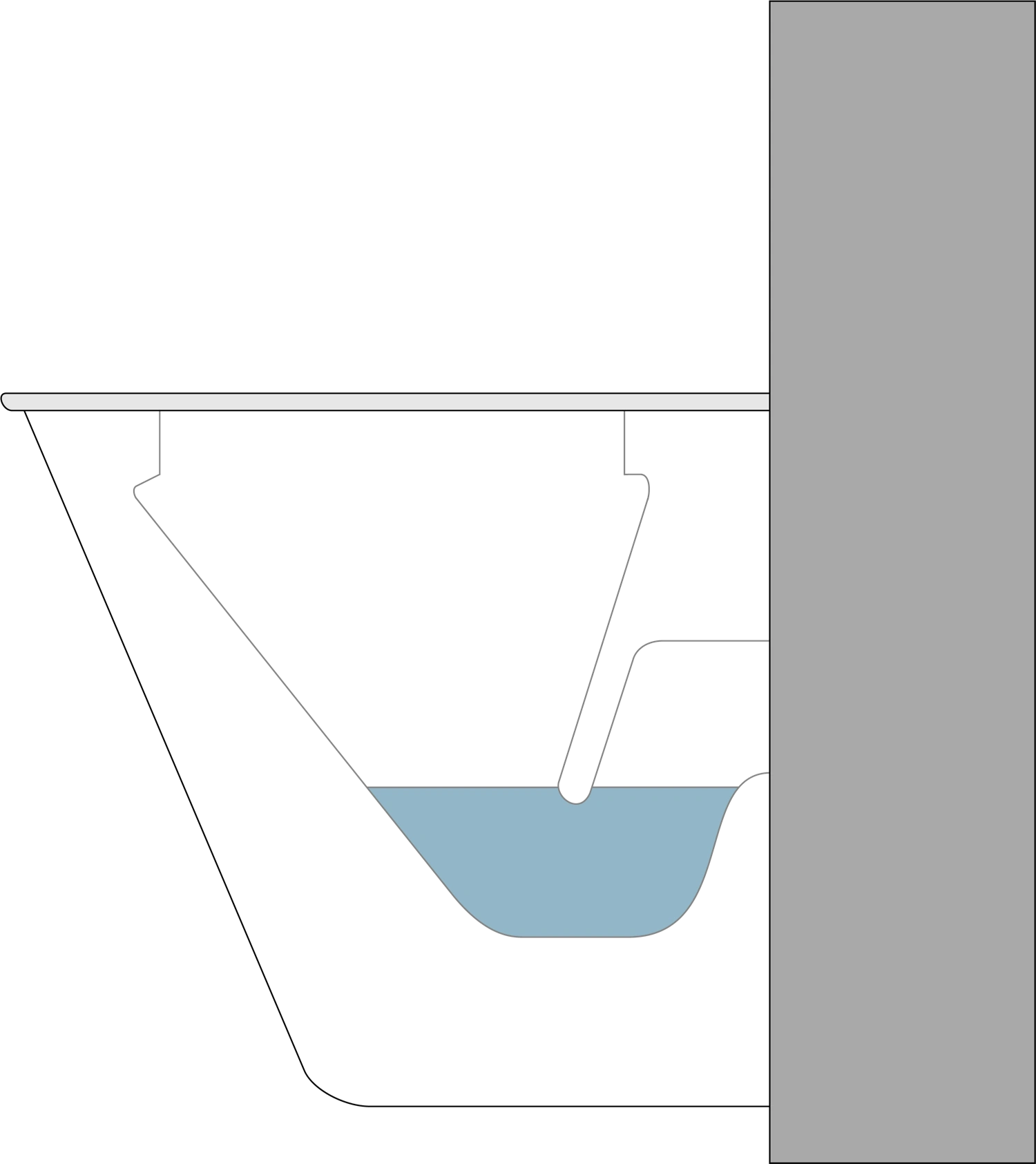 Automated Public Toilet
The automated toilets are non self-cleaning toilets. To ensure cleaner surfaces and make the general use of the toilets as hygienic as possible the automated toilets are equipped with no-touch elements.
Check out our other units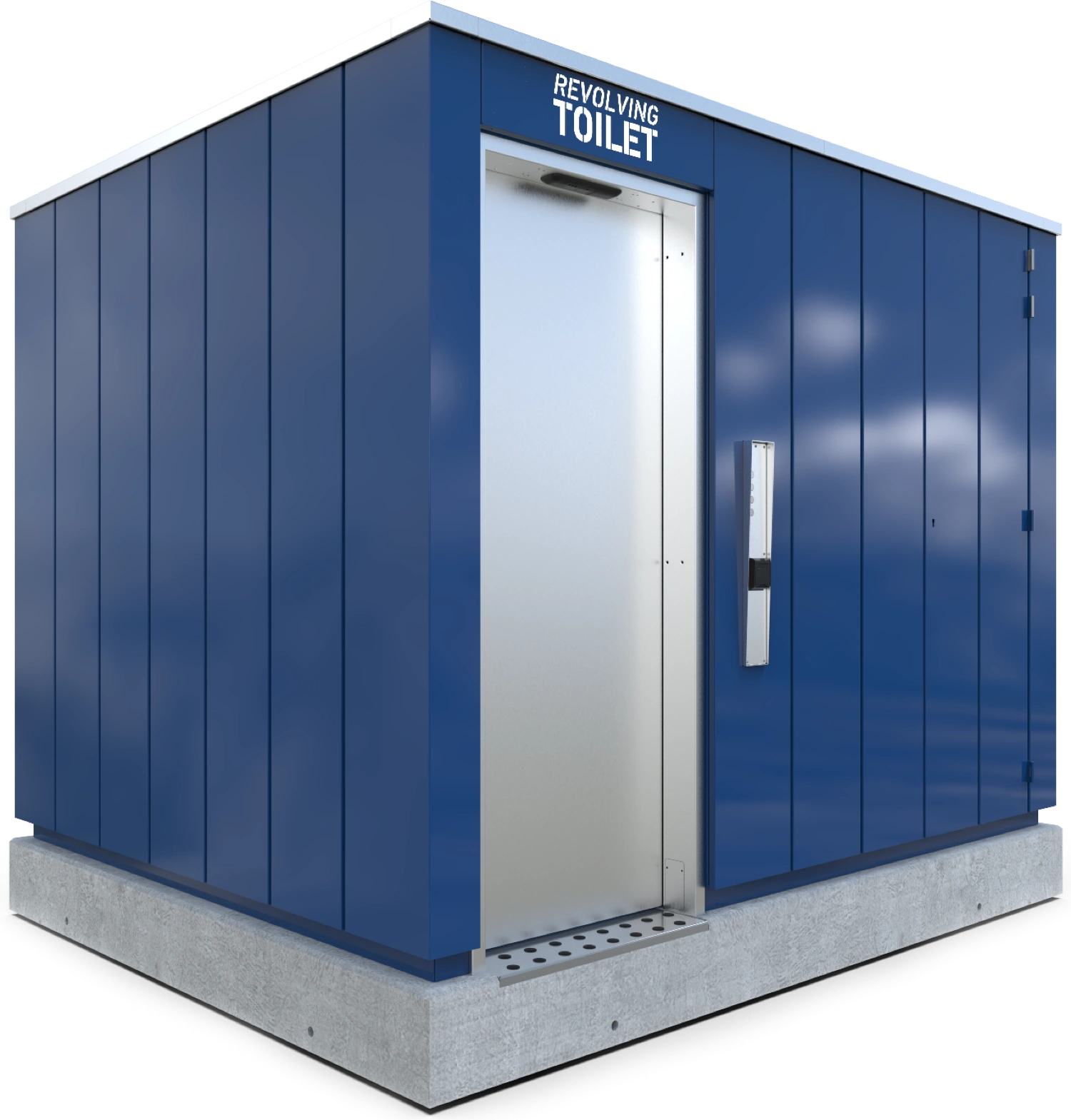 Stand-Alone Unit
Units especially developed for the public environment.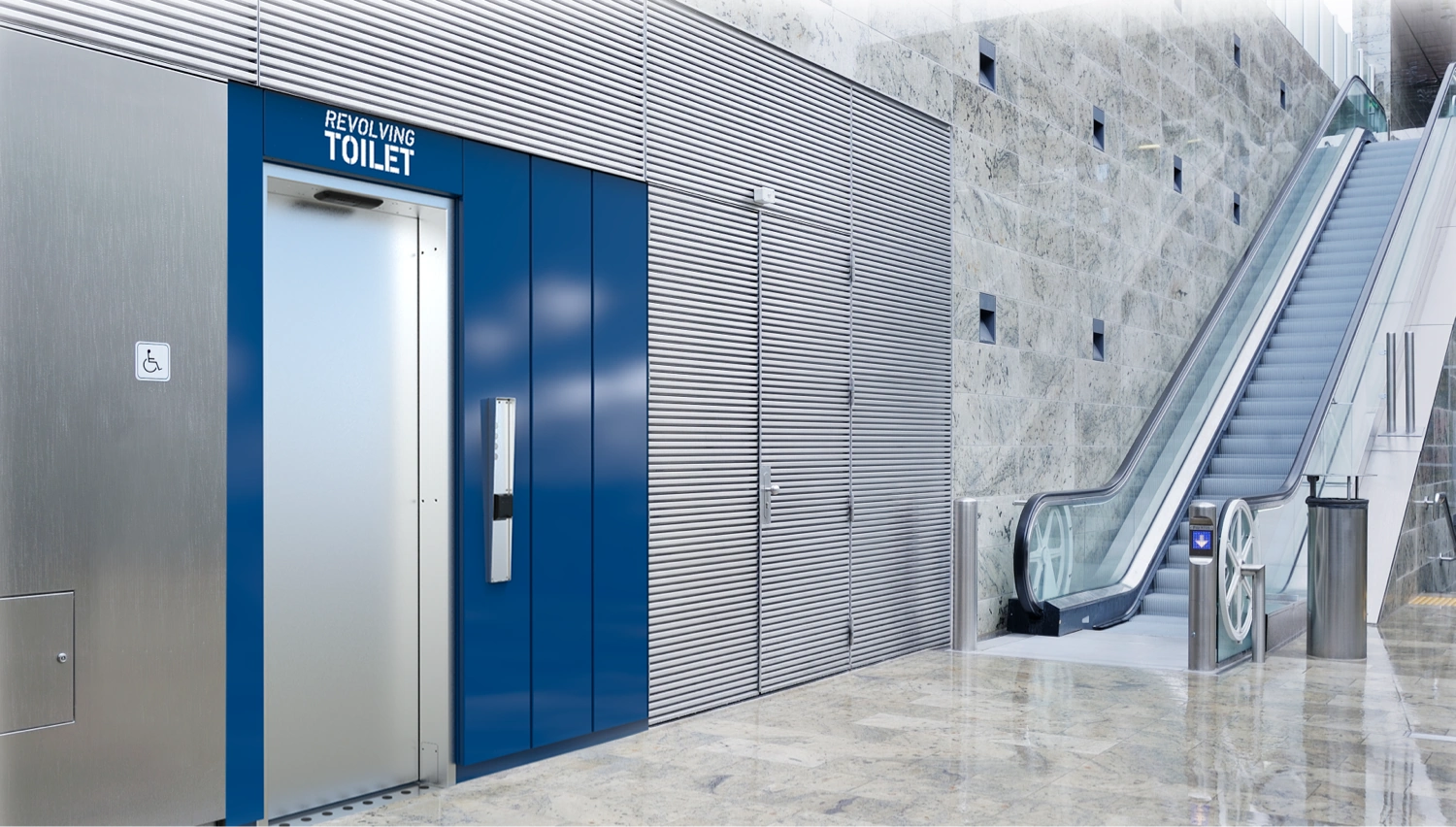 Built-in Unit
Our toilet technologies installed in existing spaces.